Air purifiers with EN1822 certified HEPA-filter
Our air cleaners are based on the same technology as used in hospitals and the space industry to create a safe indoor climate. They eliminate exhaust fumes from traffic and harmful particles from the flame retardants used in textiles, furniture and electronics. In addition, they have a documented capacity to capture particles as small as viruses. When we compare our air cleaners equipped with HEPA filters, they have proven to be the best in tests against many of our competitors' products.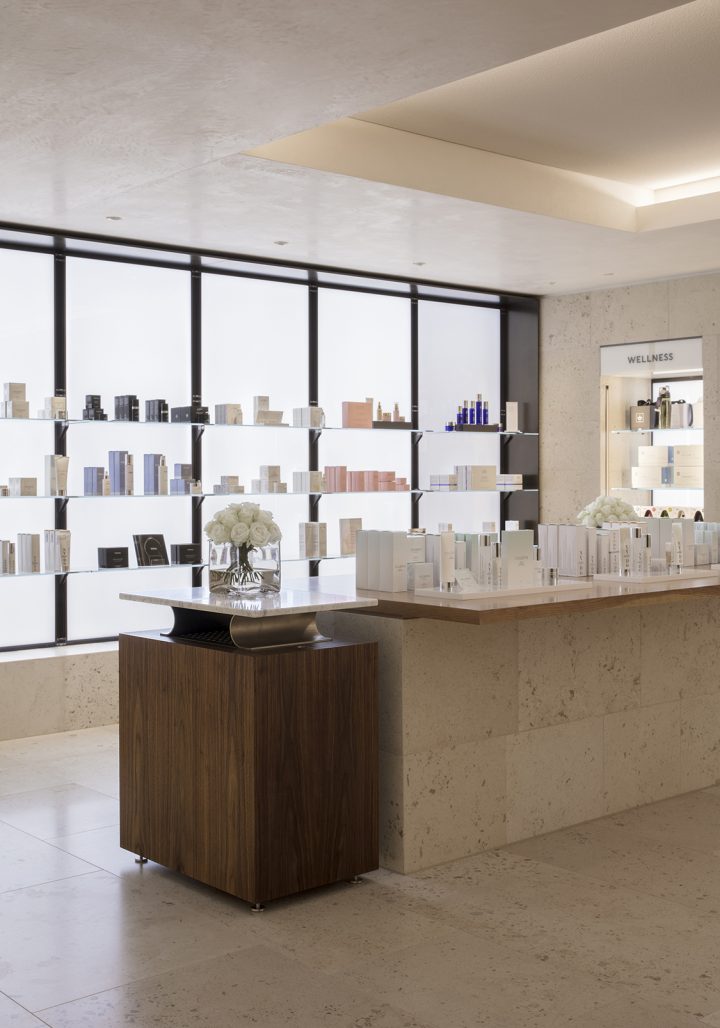 Livsdal's air purifiers eliminate
Vehicle exhaust fumes
Smoke from wildfires
Viruses, bacteria and mould spores
Ground ozone
Materials in buildings like paint and glues
Toxic substances from detergents
Harmful gases from flame retardants in interior furnishings and electronics
Hazardous turmoil from leaf blowers
Pollen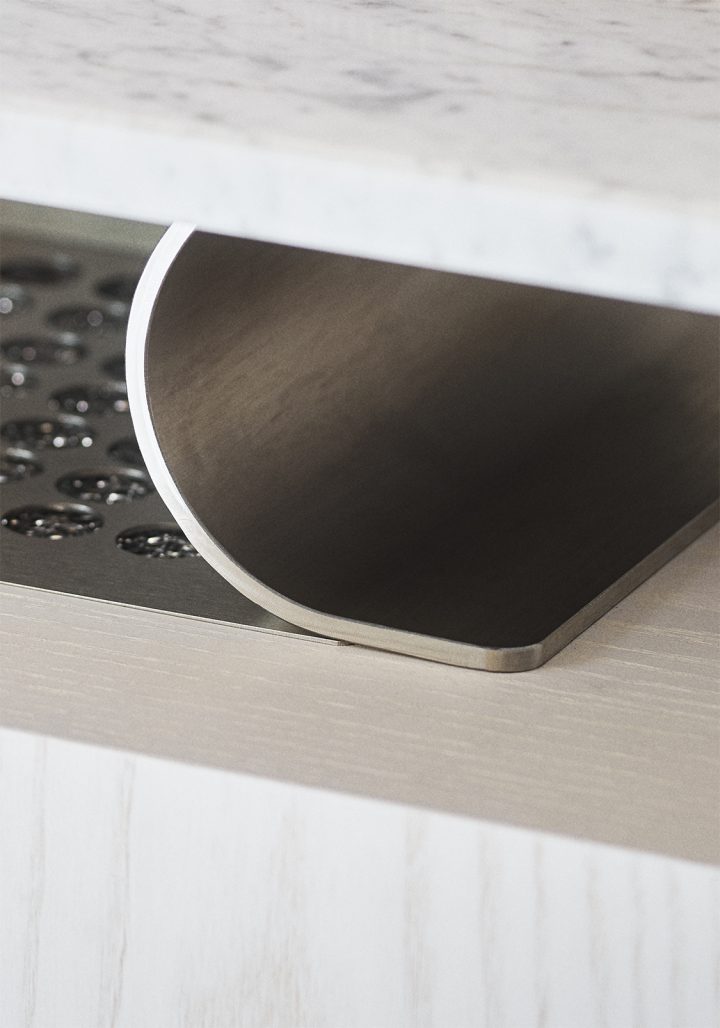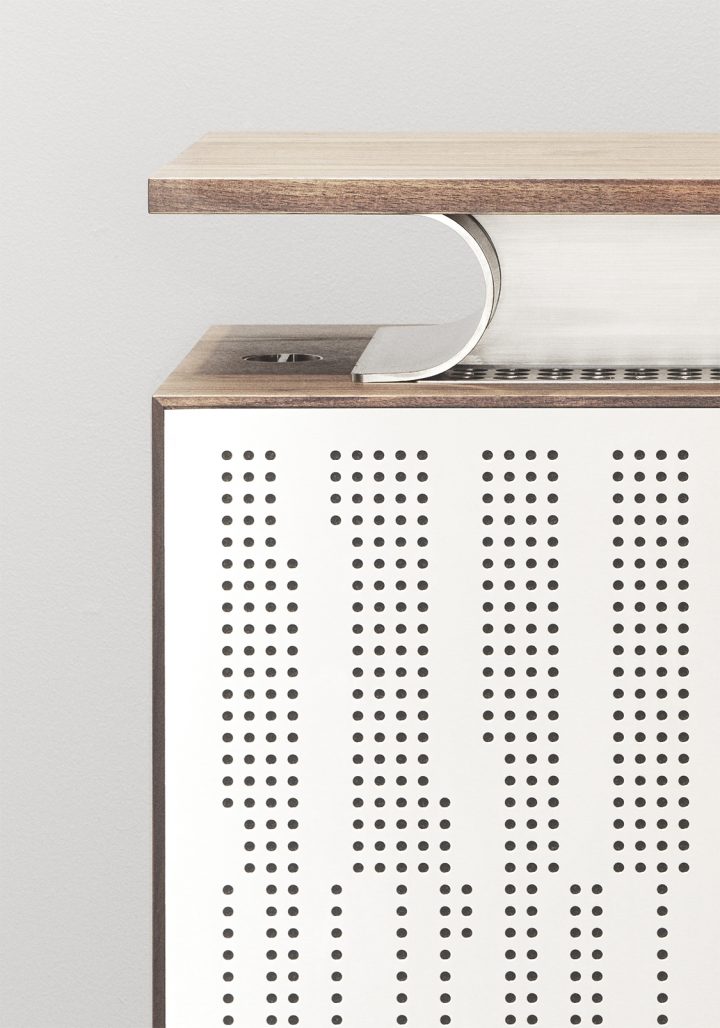 The same filter as used at Karolinska University Hospital, Stockholm
During the initial phase of the covid-19 pandemic, when the Karolinska University Hospital expanded its intensive care unit to receive covid-19 patients, air purifiers from the Swedish filter company Camfil were installed. We use the same type of filter, individually tested and certified HEPA H13 filter, in our mechanical air purifiers. Livsdal also has molecular purification with activated carbon. This means that exhaust gases that come in from outside via ventilation systems are cleaned away, which facilitates breathing and minimises strain on the body's immune system.
The market's most advanced filter technology
The particle filter in our air purifiers is HEPA H13-classified in accordance with EN1822 and comes from the Swedish air filtration specialist Camfil. This filter captures particles in sizes such as PM10, PM2.5, PM1 all the way down to nano size. The molecular filters remove nitrogen dioxide, sulphur dioxide and ozone from exhaust gases as well as formaldehyde and volatile organic compounds. The purification capacity of our air purifiers is 10–20 times higher than that of other, average air purifiers.
Each HEPA filter is tested and certified in accordance with the CGMP standard and tested individually in accordance with EN 1822 for airflow, resistance and efficiency. A unique ID is placed on each filter, for the sake of traceability. The carbon filters are tested in accordance with ISO 10121, the global testing standard for molecular filters.
This is how the purification works
Installation of our air purifiers is simple. The air purifier is connected to an electrical outlet, started and set to the desired level using a stepless control. Air is sucked in through the large supply air grille and passes through various filters until it is then blown out at the front or the sides through a smaller outlet. The speed of the outgoing air is greater than that of the incoming air and thus a circulation effect is created in the room.
After 15-20 minutes, all the air in the room would have passed through the filters in the air purifier and been purified for the first time, but since new air is constantly being received from the outside, the air purifier should always be on. If there are no pollutants, the air is circulated only through it. The air purifier has an internal whose sound level is attenuated as much as possible, and so it emits a white noise reminiscent of the sound of the ocean.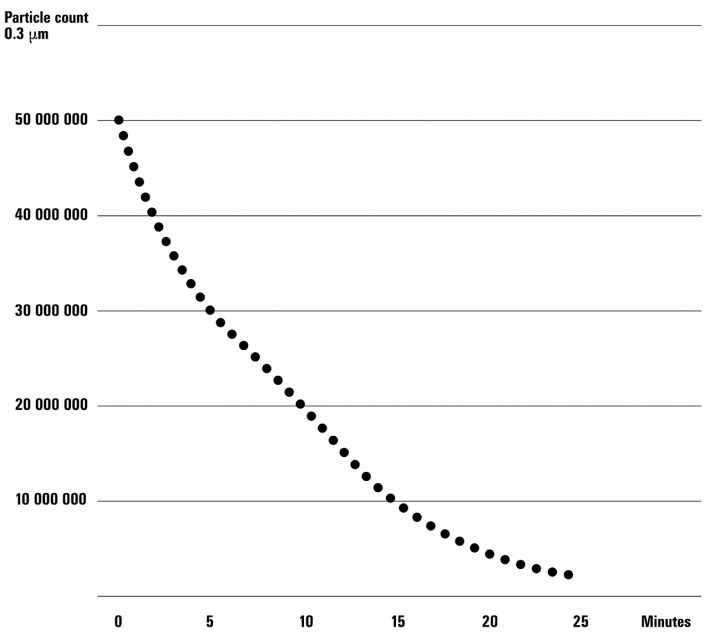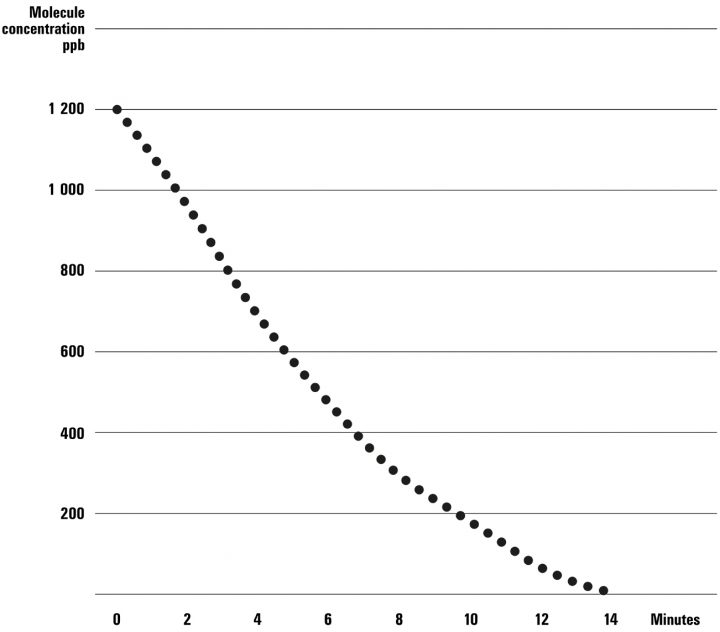 Lab-tested technology
Livsdal's air purifiers deliver certified clean air. In a series of tests carried out at the Camfil Tech Center in Trosa, Sweden, Livsdal air purifiers were shown to reduce 0.3-micron particles in a 20 m3 chamber from 50 million per m3 down to 2 million particles per m3 in 25 minutes at medium speed.
The second test showed the complete elimination of toluene molecules from 1,200 parts per billion down to zero in just 14 minutes at medium speed.
Are test-winning air purifiers the best air purifiers? Read more here.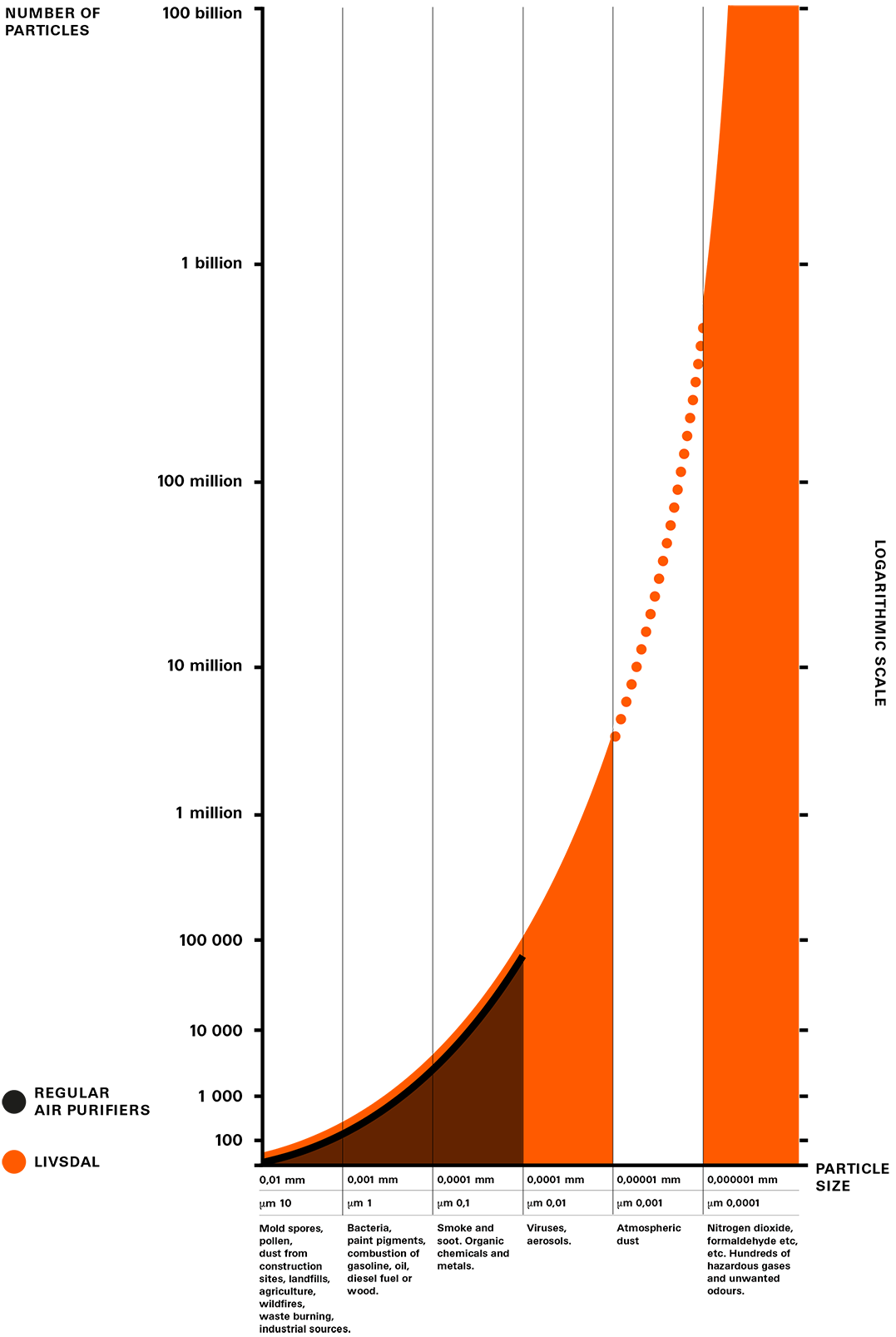 A health investment
According to the WHO, airborne pollutants have a negative effect on health. Additionally, a number of links have been found between air pollution and various disease states. People who have asthma or other chronic respiratory disease usually suffer aggravated problems from air pollution. Breathing problems also have a negative effect on the sleep cycle. New research has also linked particles from vehicle emissions and industrial pollution with an inflammatory process that triggers heart disease and stroke.
Clean air, on the other hand, is able to be linked to improved concentration and work capacity. In other words, with effective air purification, you have the opportunity to increase your employees' energy and avoid the spread of diseases at negligible cost. Air purifiers are simply a very good investment in health.
Air purifiers reduce the inconvenience and risks of
Pollen allergy
Sleep disorders, including apnoea
Respiratory diseases
Cancer
Cardiovascular disease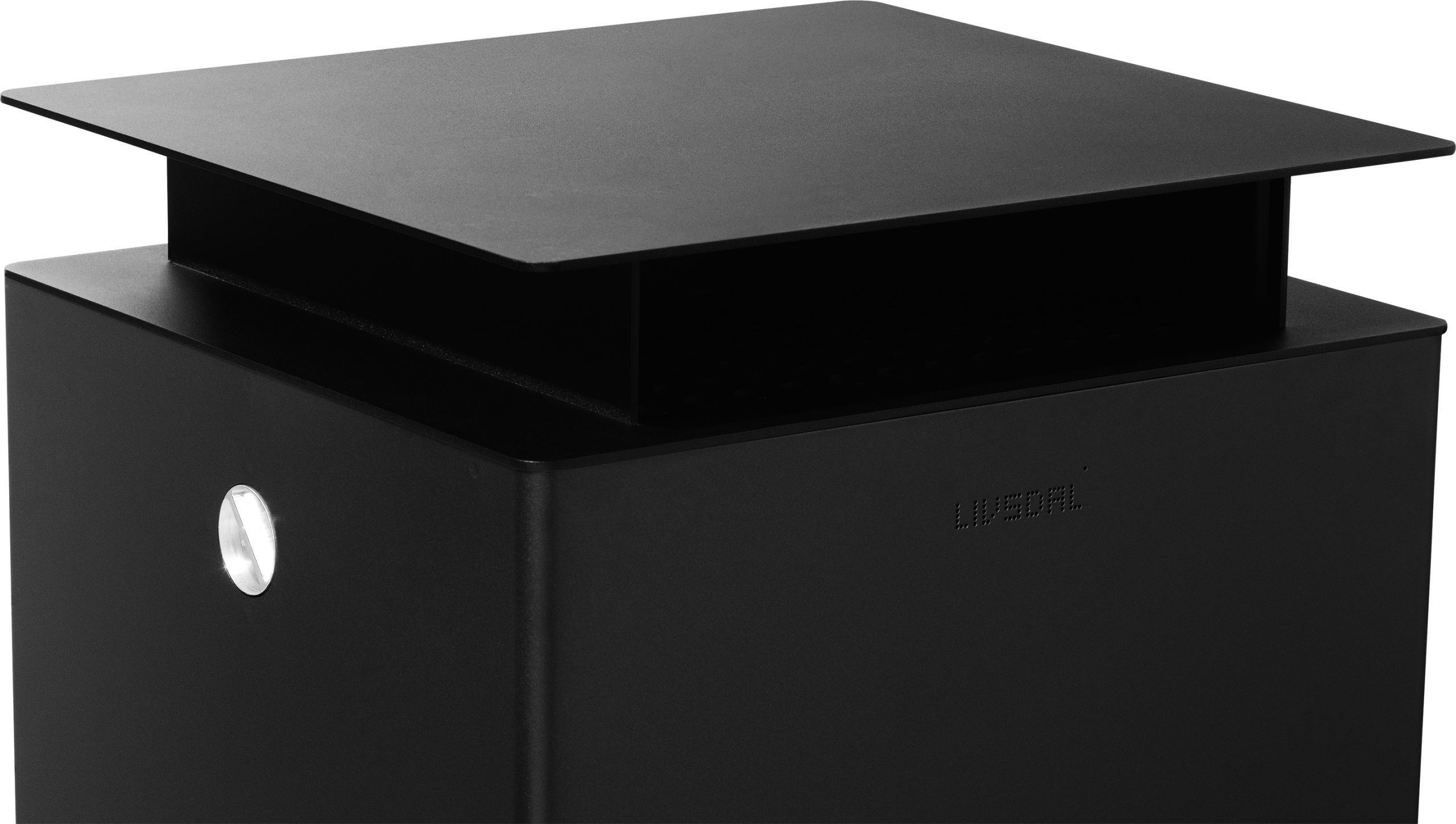 Air purifiers for asthma and allergies
About two-thirds of all people with asthma and various forms of allergies state that the symptoms become worse when the air quality deteriorates. The reason is that pollutants in the air can irritate the airways and trigger the symptoms. Even in cities such as San Francisco, Palo Alto and San Jose, the air pollutants are so tangible that they are able to cause serious injury.
Read about how air purifiers reduce problems associated with asthma and allergies.
Exposure to air pollution and COVID-19
Research has shown that long-term exposure to pollutants such as fine particles of nitrogen dioxide (NO2) and sulphur dioxide (SO2) can reduce pulmonary (lung) function and cause respiratory disease. Such contaminants have also been shown to cause persistent inflammation even in relatively young people and thus increase the risk of infection with viruses such as COVID-19/SARS-CoV-2, which target the airways.